Three Tiered Patina Necklace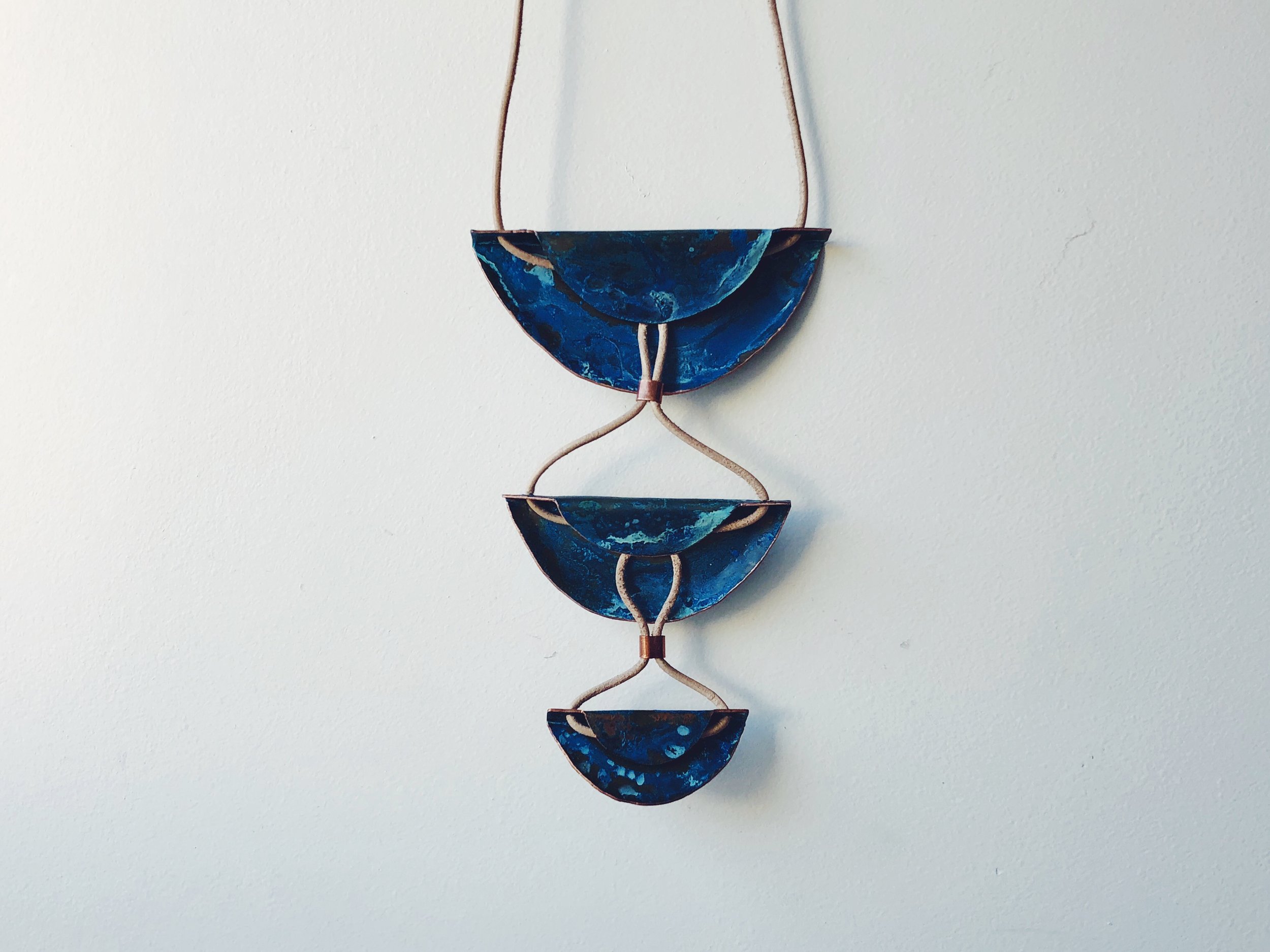 Three Tiered Patina Necklace
This necklace is three tiers of folded circles. Its strung on a vegetable tanned leather cord and knotted with a Fishermans knot so that the length of the piece can be adjusted effortlessly.
*Patina Process*
Patina (/ˈpætɪnə/ or /pəˈtiːnə/) is a thin layer that variously forms on the surface of stone, copper, bronze and similar metals (tarnish produced by oxidation or other chemical processes), wooden furniture (sheen produced by age, wear, and polishing), or any such acquired change of a surface through age and exposure.
My process of applying patina onto copper has been an ongoing development since my time at NSCAD. Now mostly I use ammonia and salt, and put the pieces in a contained space for at least a 24 hour period. Sometimes I take the pieces out and put them back in to deepen the patina even further. Afterwards the pieces dry out for at least half a day and then I apply a fixative to ensure it stays in place. I then highlight the edges to expose the metal from underneath and do one final fix/ spray after that.
The coloration of patina very much depends on season- humidity, sunlight, temperature etc. From experience, I see a brighter blue in the summer and darker blue in the winter.
Patina Care:
It is important that you know before purchasing a patina piece that even though this patina has be fixed on the metal (3 times), the nature of patina is to change over time depending on how the piece is cared for and how often it is worn.
-It is recommended to not submerge your patina'd pieces in water.
-Some areas may lose the blue patina over time where the piece rubs against another surface.
In my personal opinion this is what makes these pieces more unique, I think the patina becomes more beautiful as the jewelry ages.